OUR MISSION: PROTECT LIFE. PREVENT HARM. PRESERVE PROPERTY
---
HISTORY
The Robertsdale Fire Department was started in the late 1920's. Percy Pollard was the first fire chief and the first station was located at the corner of Wilters Street and Highway 59. Training for the fire department was provided by the military personnel at Brookley Field in Mobile, Alabama until the late 1960's.
The first fire truck was a used 1931 Seagrave that was donated by the City of Opp, Alabama. It was picked up by Herman "Scratchy" Mattingly and Josh Sellars. The first brand new fire engine purchased from a local dealer was a 1947 Studebaker which was housed at Pennsylvania Street and Highway 59. Though it is fully functional , it is only used as a parade vehicle. A new 1968 International fire truck was purchased from a local vendor and in 1978, a Ford pumper bought from Harless Fire Sales was added to the station as well. Since then, two pumper trucks have also been added, one in 1991 and one in 1996.
The fire station was eventually moved to City Hall's present location on Racine Street. The fire department was reorganized in 1966 by developing their own by-laws and electing firefighters to represent the fire department in a more official capacity. The department was moved to it's present location, on the corner of Nebraska and St. Paul Street, in 1992.
PERSONNEL
The following personnel are all Volunteers at Robertsdale Volunteer Fire Department. Through our own in-house training and several courses offered by Alabama Fire College, National Fire College and other educational institutions, these people are trained to handle a wide array of emergency situations. All of our personnel are dedicated to serving their neighbors and their community. Although this is a demanding field it is also very rewarding, knowing that you can do something to help. We also have a Fire Explorer Post made up of several dedicated teenagers from our community who are being trained to be the future firefighters of Robertsdale Volunteer Fire Department.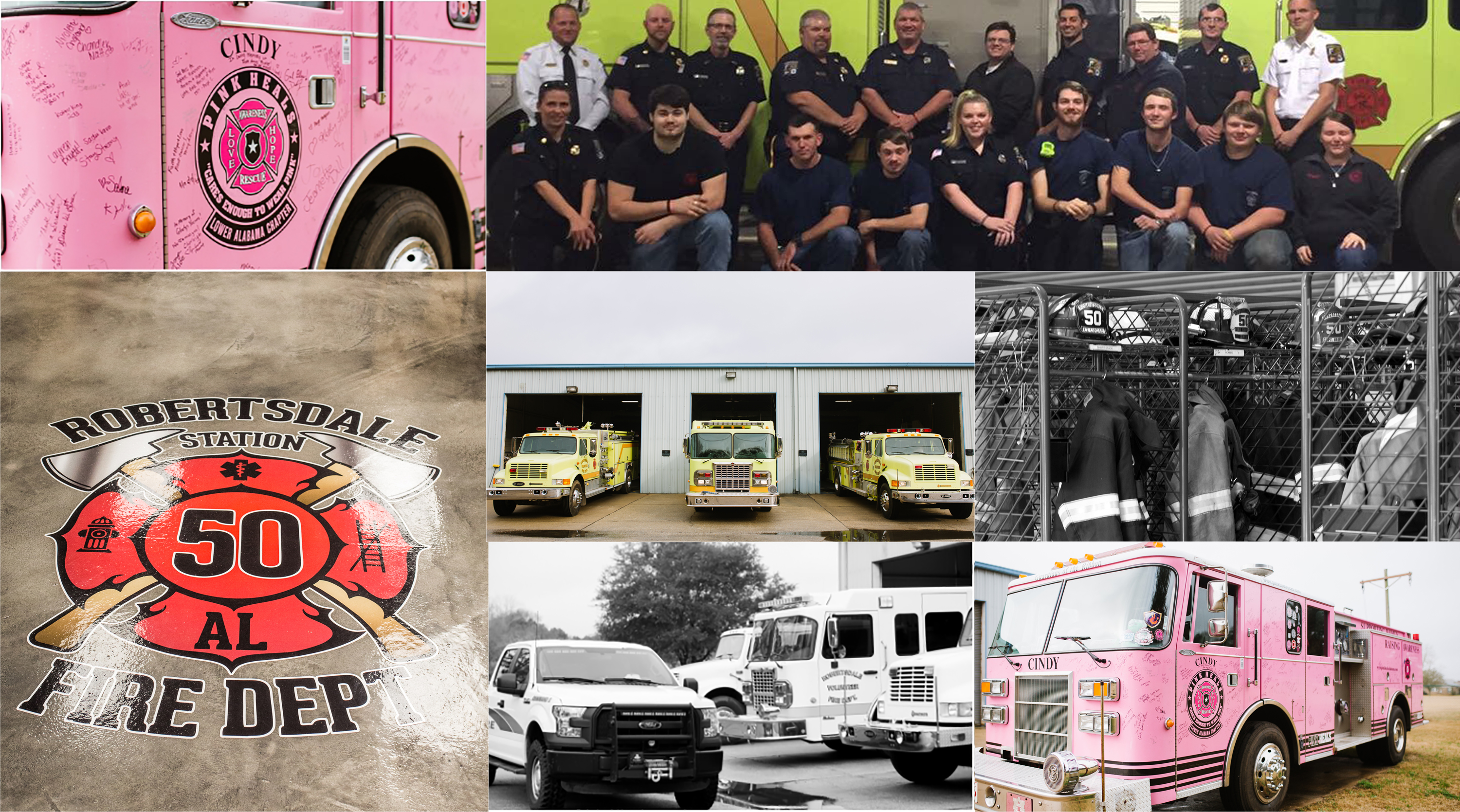 | Name | Position |
| --- | --- |
| Paul Patterson | Fire Chief |
| Cody Nims | Assistant Fire Chief |
| Ashley Edwards | Secretary |
| Matthew Bray | Captain |
| Roy Crosswhite | Lieutenant |
| Austin Phillips | Captain |
| Gary Mosley | Firefighter |
| Dillion Foshee | Firefighter |
| Hubert Darby | Firefighter |
| Charles Roberts | Firefighter |
| Blake Taylor | Firefighter |
| Christopher Thomas | Firefighter |
| Cheyenne Wilson | Firefighter |
| Lenita Ortega | Firefighter |
| Cody Baker | Firefighter |
| Grace Baker | Firefighter |
| Nicholas Parker II | Firefighter |
| Nicholas Parker | Lieutenant |
| Freddie Wilson | Firefighter |
| Nicholas Moore | Assistant Chief |
| Aubrey Phillips | Firefighter |
| Victoria Hughes | Firefighter |
| Cory Daniels | Firefighter |
| James Bauer | Chief |
| Carley Baker | Firefighter |
| John Phillips Sr. | Honorary Member |
| John Phillips Jr. | Honorary Member |
| Rex Aldridge | Honorary Member |
| Fred Peace (Paramedic) | Honorary Member |