G.P. Thames Adult Activity Center
---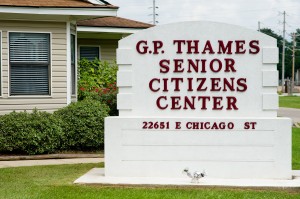 SARAH DUNCAN
DIRECTOR
22651 E. Chicago Street
Robertsdale, AL 36567
Phone:251-947-8973
Fax:251-945-5013
---
ADULT ACTIVITY CENTER RENTAL
The G.P. Thames Adult Activity Center is available to the public for rent. Please refer to the rental contract for current rental rates. Maximum capacity: 94
Rental Agreement
---
SENIOR SALE-BRATION
2017 We are having a Sale-bration at the PZK Hall on U.S. Highway 104. This is a opportunity for vendors to sale arts and crafts they have created. This years' event will be November 4th. Vendors interested in participating at this event can call (251) 947-8973 for more information.
---
HELPFUL LINKS
AARP www.aarp.org
Administration on Aging www.aoa.gov
Benefits Check Up www.benefitscheckup.org
Eldercare Locator www.eldercare.gov
Elder Care Planning Guide www.consumeraffairs.com/elder-care-planning
Family Caregiver Alliance www.caregiver.org
Meals on Wheels www.mowaa.org
Medicare www.medicare.gov
National Council on the Aging www.ncoa.org
Senior Living Map www.seniorlivingmap.org
SeniorNet www.seniornet.org
Note: The City of Robertsdale in no way supports or endorses any of the above agencies.