23335 E. Chicago Street
P.O. Box 429
Robertsdale, AL 36567
Phone: 251-947-2222
Fax: 251-947-2228
HISTORY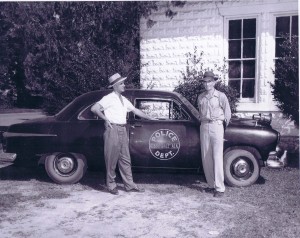 On May 2, 1921, Mayor Hammond appointed C.W. Wilson as the first town marshal. Marshals were paid per arrest. The original Police Department was located at the southeast corner of Pennsylvania Street and Highway 59. It was eventually moved to City Hall and was later relocated to its current address on East Chicago Street.
There were several marshals appointed between 1921 and 1960. On October 3rd, 1960, Hamilton F. Hall was appointed Police Chief, by Mayor Josh Sellars. Woodrow Wilkes took over the position on September 9th, 1974. On February 14th, 1977, Robert E. Williams was appointed as the temporary chief. One week later he became permanent Chief of Police until his retirement on March 1st, 1998. He was succeeded by Alan Lassiter on that same date. Our current Chief of Police, Bradley Kendrick was appointed on January 6th, 2003.




PERSONNEL
The personnel at Robertsdale Police Department are always willing to assist any way they can. These officers are trained to handle many situations and various aspects of law enforcement.
Below is a list of contact personnel for Robertsdale Police Department.
| Name | Position |
| --- | --- |
| Brad Kendrick | Chief |
| Tedd Stone | Lieutenant - Patrol |
| Paul Overstreet | Lieutenant - Investigations |