Robertsdale Public Library
---
DIRECTOR
CYNTHIA NALL
ASSISTANT LIBRARIANS
JOYCE NIMS
JOYCE ALLEN
LIBRARY ASSISTANT
BROOKS CHILDRESS
18301 Pennsylvania Street Robertsdale, AL 36567
Phone:251-947-8960
Fax:251-947-5521
Email Us
---
ABOUT THE ROBERTSDALE LIBRARY
| HOURS OF OPERATION | |
| --- | --- |
| Monday | 9AM – 5:30PM |
| Tuesday | 9AM – 5:30PM |
| Wednesday | 9AM – 5:30PM |
| Thursday | 9AM – 5:30PM |
| Friday | 9AM – 5:30PM |
| Saturday | CLOSED |
| Sunday | CLOSED |
Welcome to the Robertsdale Public Library. At the Robertsdale Public Library, our goal is to make your visit pleasant and successful. We want to help you find the material or information you need. So, please ask us if you have any questions or are unable to find what you need. You do not need a library card to use our reference services, but you will need a card to borrow material.
With our growing collection of audio and video materials, we are ready to meet the needs of the surrounding communities. A totally computerized card catalog system, and a knowledgeable, friendly staff complement this modern library constructed in 1992. In addition to its well-stocked collection that includes many of the latest best sellers and paperback authors, the Robertsdale Public Library sponsors various children's and community activities. Young people and adults of all ages can find something of interest at this library.
---
LIBRARY CARDS
To qualify for a library card, you must provide verification of your permanent mailing address. Items that are acceptable as verification of your mailing address are: driver's license, P.O. Box receipt, voter registration, personalized check or mail which has been delivered to you. Juvenile patrons (under age 16) must have a parent or legal guardian present to issue a card.
---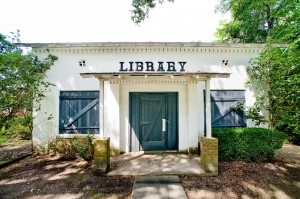 CHECKING OUT ITEMS
Library cards are required to check-out books and use computers. The Robertsdale Public Library honors all Baldwin County Library Cards. Library cards are free. However, there is a $1.00 fee to replace a lost, stolen or destroyed card. Your card is the link to your account, so please be sure to bring it with you each time you visit the library and present it at check out.
General patrons, and juvenile patrons may borrow up to twenty-five (25) items at one time, per library card. Juveniles cannot check out Videos or DVD's.
---
CHECK-OUT PERIODS
Items check out for fourteen (14) days and may be renewed if there are no holds on them. New items and videos may not be renewed.
Magazines may be checked out. All newspapers are limited to in library use as are all reference materials.
If you would like to research to see if the library has the materials you need, you may log onto the Baldwin County Library System's website at the address listed below to find out. We ask that you please do not e-mail the library with these inquiries. You can also avoid late fines with on-line renewals. All you need is a PC, your library account number and PIN. Just log into the library system and renew your check out.
---
COMPUTER LAB
We have 11 computer terminals with free Internet access. There is no fee to use the terminals, however, we ask that you limit use to 1 hour when others are waiting for the computer. Before using the computers, please sign in and read our Internet policy. Please sign out when you finish using a terminal; this helps us facilitate your use of the computers.
Children's behavior is the responsibility of the parents. Please control your children from running, speaking loudly, and disrespectful behavior. The children's area is for ALL children, so please help keep it in order for all to enjoy.
The library is a public facility and we do have the right to ask anyone who is disruptive to leave the premises.